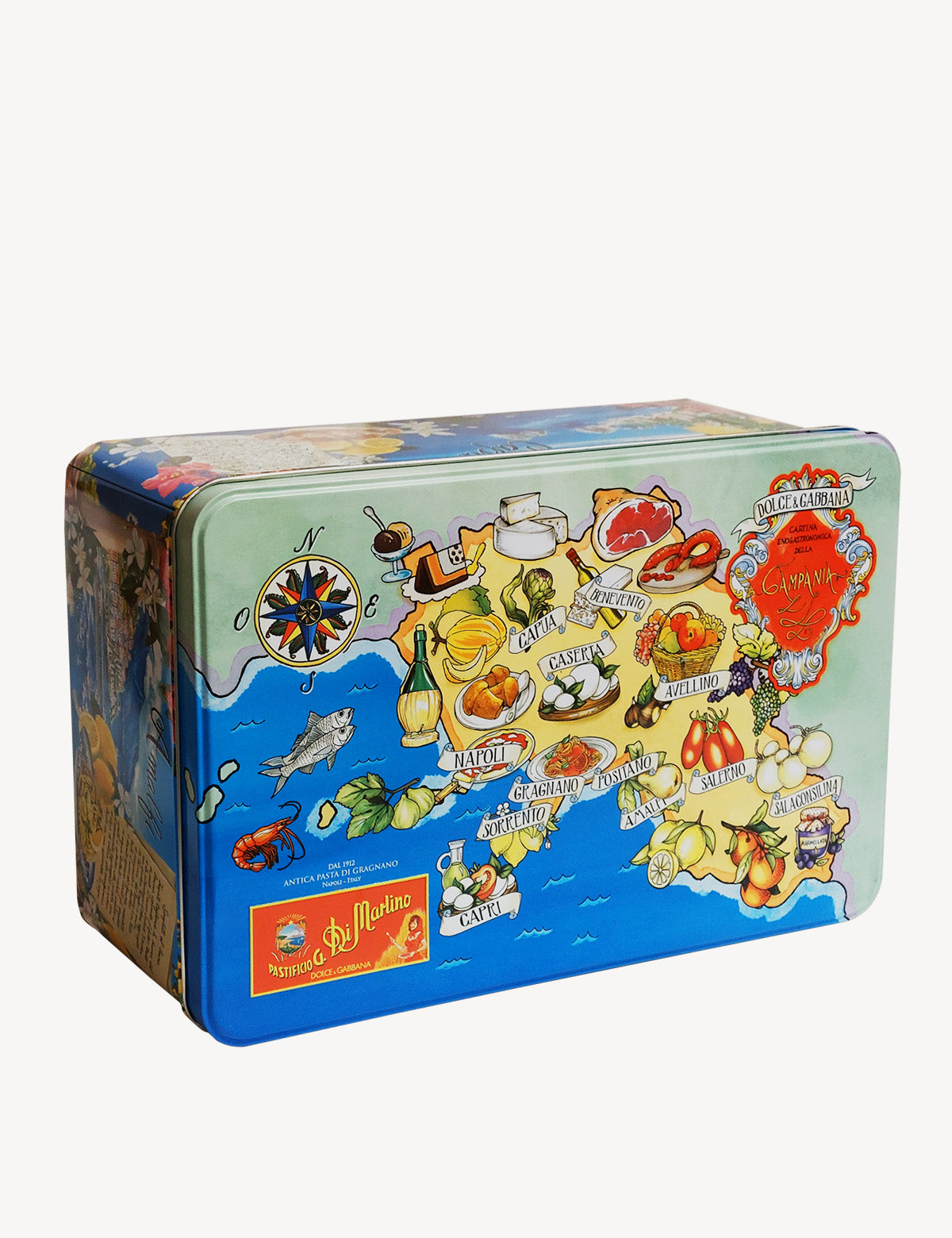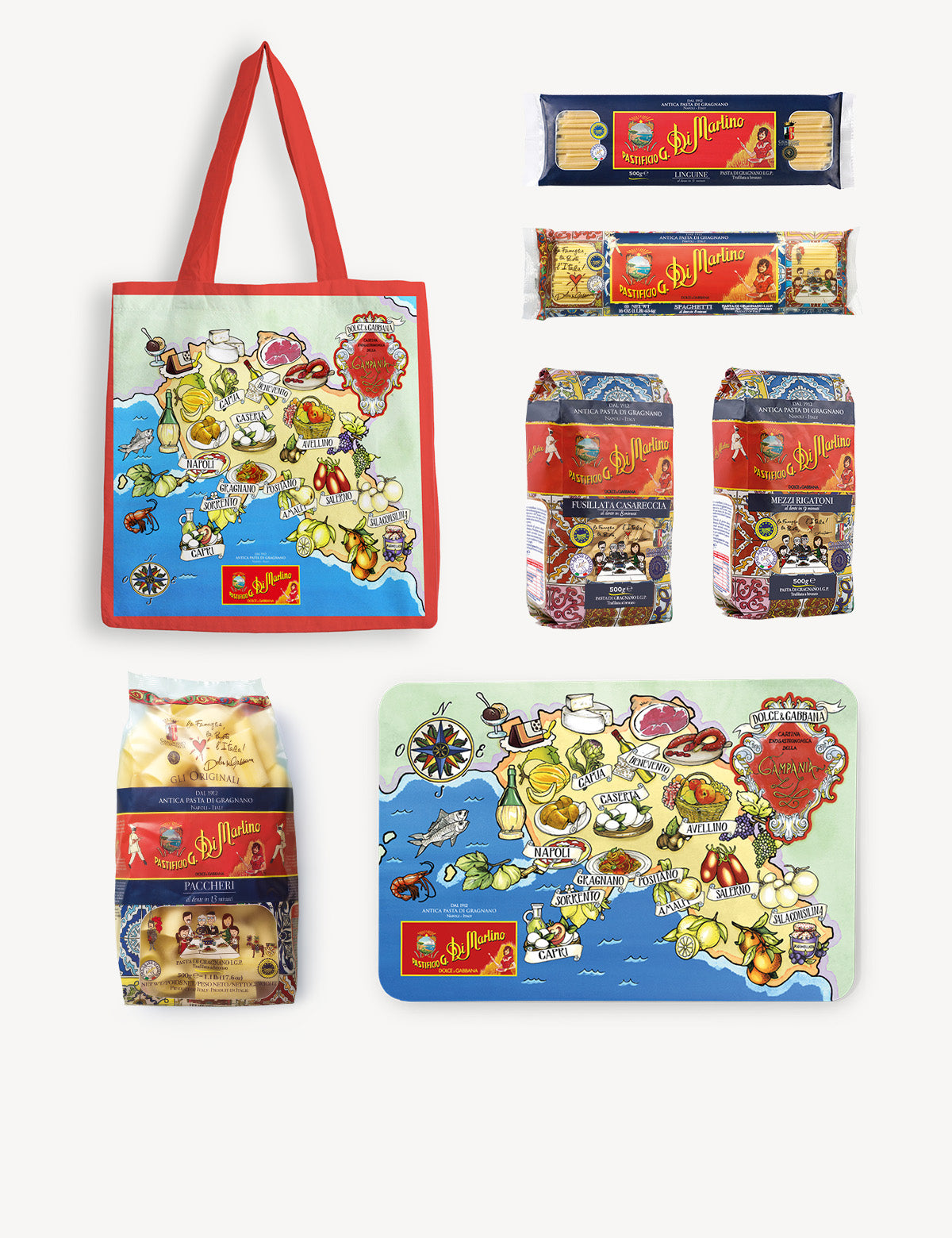 Italian holidays Dolce&Gabbana with Shopper
5 bags of PGI Gragnano pasta, 1 Dolce&Gabbana shopper
Description
This colorful gift box displays a culinary map of Campania to discover all the flavors of the Costiera. The tin box includes 5 shapes of PGI Gragnano Pasta made with 100% Italian durum wheat and a lively cotton shopper designed by Dolce&Gabbana.

The Tin includes:

1 x bag of Spaghetti PGI Gragnano pasta 
1 x bag of Linguine PGI Gragnano pasta 
1 x bag of Paccheri PGI Gragnano pasta 
1 x bag of Mezzi Rigatoni PGI Gragnano pasta 
1 x bag of Fusillata Casereccia PGI Gragnano pasta 
1 x Dolce&Gabbana Shopper 
* Pasta shapes may vary according to availability
Italian holidays Dolce&Gabbana with Shopper
Shipping & Delivery
Shipping & Delivery Areas
Shipping costs may vary due to weight and size of the package and the geographical area of ​​delivery

Select your zipcode, and we will choose the most appropriate courier. Once the goods have been entrusted to the courier, you will receive a tracking number in your email. Your costs will be estimated before completing the purchase
Delivery Time
Estimated order processing times are 2 working days (Monday to Friday)

Delivery times will depend on courier and location
In store Pick-up
You can pick-up your oreder in our store at Chelsea Market, New York
Open Daily 12pm - 8pm
Payment Methods
SHOPIFY PAY AND CREDIT CARD
Shopify Payments is the new payment gateways powered by Shopify that is fast, complies with Payment Card Industry (PCI) standards, and has 3D secure checkouts.
It accepts the most common credit cards, including Visa, American Express, MasterCard, Discover, Diners Club, Elo and JCB.
Di Martino Air NY llc reserves the right to request additional information from the customer such as fixed telephone number or copy of documents proving the ownership of the card used. In the absence of the required documentation, Di Martino Air NY llc reserves the right not to accept the order.
PAYPAL
PayPal is an online payment system that involves opening an account at PayPal. Concluding a purchase with this type of payment will appear a PayPal site page where you enter the personal email address and password of your PayPal account, or access the procedure for creating a new one. After registration, payments can be made via PayPal without having to re-enter the data, even for subsequent purchases. Choosing to pay with PayPal will be charged directly to your credit card (Visa, Visa Electron, Mastercard) or Prepaid. PayPal protects buyer information. Each transaction executed with this method will send a confirmation e-mail from PayPal. The amount of the order is charged to the PayPal account at the time of order acquisition. If canceled, the amount will be refunded to the customer's PayPal account.
APPLE PAY AND GOOGLE PAY
Apple Pay and Google Pay are digital wallets where iOS and Android users can store their payment card details and then make payments via the latest authentication technologies like Touch and Face ID. They both can be used to have an express checkout and Di Martino Air NY llc will not store any information about the card used for payment
IGP Gragnano Pasta
100% Italian durum wheat semolina
We use only the best 100% Italian durum wheat semolina (non GMO) containing a minimum of 14% protein. Our wheat comes from fields dedicated to its cultivation for over 2000 years in the south of Italy
Tin Giftbox
Make a Gift
The Di Martino pin-up tin giftbox contains six packs of 1lb of Gragnano PGI pasta made with 100% Italian durum wheat (Non-GMO)
Shop all